To find which plans on our website are HSA-eligible, take the following steps:
If you haven't already, fill out your personal profile on our website (you can click the Stride icon in the upper left-hand corner of the page to return to the home page, then click "Health" on the homepage's upper right-hand corner to enter the profile flow).

Once you get to the initial "plans" page with the three recommended plans for you, scroll to the bottom of that page.

Select "see all plans"; or Click "All Plans" under "Recommend Plans" 

Near the top of the screen, on the left-hand side, click on "No filter" to populate the filter options (Carriers, Network types, Metal Tiers, and Health saving account)

Click the square next to "HSA eligible" so that it's checked.
This will filter your results to only include HSA-eligible plans!
Note: Not all regions will have HSA-eligible options offered; that decision is up to the insurance companies offering plans in your area!
Below is a demo of how to view HSA-eligible plans after you've finished filling out the personal profile on our website. Check it out below!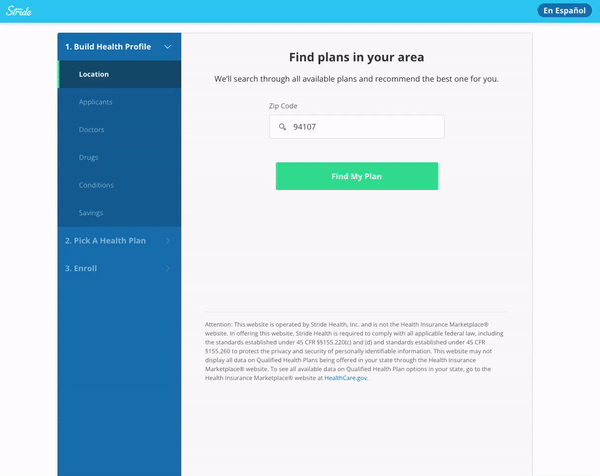 To enroll in an HSA plan now, click here!