Update - 2/19/21: We are actively working to resolve an issue impacting Stride members who have been instructed to "Jump to Healthcare.gov" to complete their enrollment. When you click that button, you might see a white page with the following error: Failed to Authenticate SAML from Issuer. You can click here for more information.
There is currently a bug on Stride's site that is resulting in an "Unspecified Error" message appearing at the very last step of the application and preventing users from confirming their plan selection.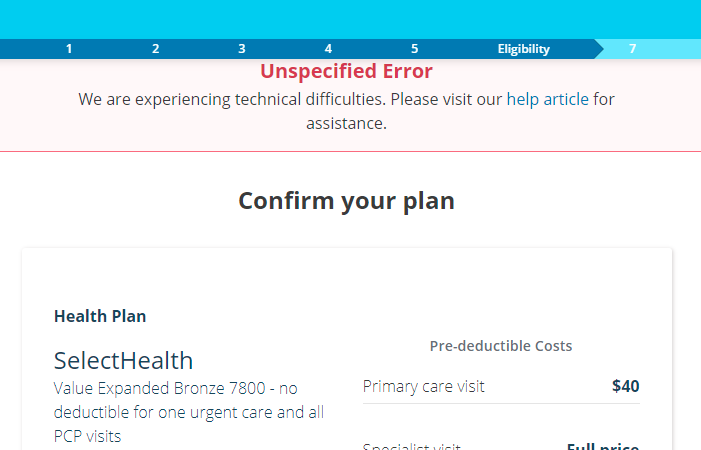 How to troubleshoot this issue:
For most users:
Go back to your

Stride Dashboard. When you return, instead of clicking "Continue application," select "Start over."
Enter your zip code and this will take you back to the page that says "Find plans in your area." Proceed to follow the instructions and find the original plan you were applying for.
Once you find the plan, click enroll and work through the application once again.
If you're unable to submit the application after attempting to "start over," we strongly recommend completing your enrollment through Healthcare.gov to ensure your application is completed before the deadline of December 15th. Stride is an official Healthcare.gov partner that submits applications directly through their site, so no need to worry! Healthcare.gov is the source of truth here and will get you enrolled in time!
Healthcare.gov can be reached by clicking here or calling 1-800-318-2596.
You can access your existing application by providing the application ID at the top of your eligibility results notice that you should have received before completing the application.
The notice will look like this image below and will have a unique 10 digit number next to Application ID:
​
Keep in mind that you must complete an application for 2021 coverage by 11:59pm on 12/15/2020.
Want to keep Stride as your broker of record? Enter this information when prompted:
Agent/Broker of Record:

Noah Lang
NPN:

17068737