There are two reasons why you might see a price change after completing an application:
You answered certain information incorrectly on your application which made you ineligible for a premium tax credit subsidy.
There is a premium price discrepancy between Stride and Healthcare.gov or your state exchange. Your desired health plan might be a different price than what Stride originally quoted you.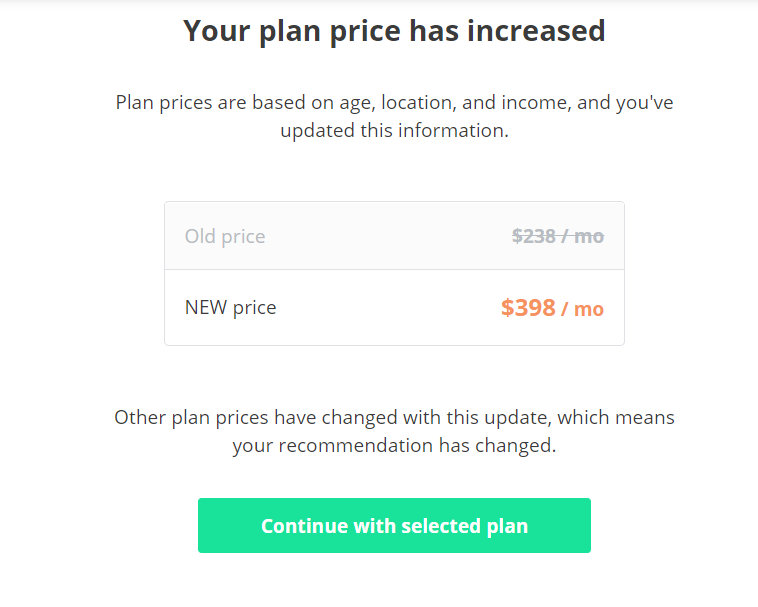 1. Your price might have increased because you lost your premium tax credit subsidy.
Because Stride's marketplace plan prices are inclusive of any eligible subsidies, there are a few questions on the application that need to be answered a certain way in order to receive these subsidies!
These are the application questions that often lead to people losing their subsidy:
Answering that you do not want your eligibility for financial assistance determined in the application
Indicating that you do not plan on filing a tax return for 2023
Indicating that you are married but plan on filing separately from your spouse
Indicating that you are enrolled in or eligible for minimum essential coverage elsewhere (like through an employer or Medicaid).

Note, if you are enrolled in other minimum essential coverage like through an employer or Medicaid, you will not be eligible for a tax credit subsidy and will only see full-priced plans.
If you answered any of the questions above incorrectly, log in here to change the answers on your application.
Indicate that you want your eligibility for financial assistance determined, that you plan to file taxes, and if married, select that you are filing jointly with your spouse.
Once you've submitted the necessary updates to your application, your eligibility results will redetermine if you're eligible for a premium tax credit subsidy!
2. Your price increased because of a price discrepancy
All of Stride's plans are loaded directly from Healthcare.gov which means they should be exactly the same. However, in some cases, there may be discrepancies between Healthcare.gov or your state exchange and Stride.
Here's what you should do to troubleshoot the situation:
Compare the quote you saw on Stride with the quote on Healthcare.gov for the same plan. Click here to get a quote from Healthcare.gov.
If the price on Healthcare.gov is different than what you see on Stride, you should follow the steps below to enroll in that plan at the correct price.
Link your Stride application to Healthcare.gov by either creating a new Healthcare.gov account or by logging into your existing one.
Find your application ID which can be found in the top right corner of your Eligibility Results Notice.
Once you have your application pulled up, you can continue enrolling in your desired plan.