Follow the instructions below to see your total miles driven in the app!
1) Navigate to the main menu in the Stride app by tapping on the profile icon in the upper left-hand corner of the home screen
2) Select "Send My Tax Report"
3) Tap on the "Get my report" button
4) On the "My Tax Report" screen, choose the tax time period. You can export data by quarter, year, or choose a custom date range. Under the "Email" field, you can also enter a different email address if you'd like to email your tax reports to a different email address than the one attached to your Stride account. Select the "Next" button once you've selected a timeframe.
5) The next screen will show you your total deductions and mileage total based on the timeframe you selected on the previous screen.
6) Tap on "Get my tax reports" to have your tax reports emailed to you! You'll also see your totals on your tax reports, as well as receive a breakdown of your deductions.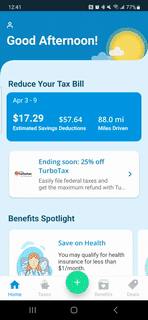 Note, your tax reports will only contain data you tracked or entered into the Stride app. If you worked for a gig platform (Uber, Doordash, Instacart, etc) and you weren't using Stride to track your miles, and you need help retracing your steps, check out this guide here: I wasn't keeping track of my drives, what should I do?