If you are having trouble removing or adding family members and/or dependents on your application, follow these instructions! An example of this might be a husband, wife, or parent showing incorrectly when it is supposed to just say "myself." The steps to correct your household will vary based on you which state you're applying from, so see below for more information!
If you are applying in most states:

You'll want to click through to your application and navigate to the household page. On that page, you will then remove the dependents or family members you are trying to take off
Then head back to our home page and restart the selection process with the correct amount of people!
For California, Washington, and any off-exchange members:

You will need to create a new account with Stride under a different email address. Unfortunately in this situation, the only solution is a new account. If this is an issue for you, please reach out to Stride and we'll help you through it!
If you are a member that has been sent to Healthcare.gov to continue your application:

You will need to remove folks from your application on Healthcare.gov. On Healthcare.gov's Eligibility Results page, click "Continue enrolling on Healthcare.gov" instead of "Return to enrollment partner site."
From there you'll be able to edit your application directly.
Please feel free to contact Stride directly if you have any questions about this process!
For most states, you'll want to navigate to the "Who is applying for health coverage?" screen and click on "Manage List" to remove family members from the application.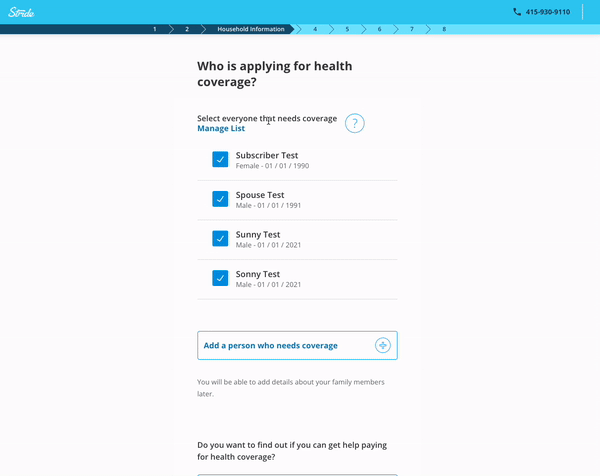 If you're sent to Healthcare.gov, here is the household page you'll want to find: