Absolutely! However, you will still need to add yourself as the primary applicant. There is an option on the application to show who in the household is getting coverage and who is not seeking coverage. Please remember that you should list all family members in your taxable household, even if they are not getting coverage. 
Please note that confirmation of lawful presence is not required on family members not seeking coverage, nor is it required for anyone not seeking coverage to enter their SSN on the application. 
The primary applicant, whether they are seeking coverage or not, needs to be above 18 years of age.
Once you've added your date of birth and sex as the primary applicant, you'll then select the green button with a white checkmark to show you do not need coverage. It'll switch from green to white and from "Getting coverage" to "Not getting coverage." Please see the GIF below for an example.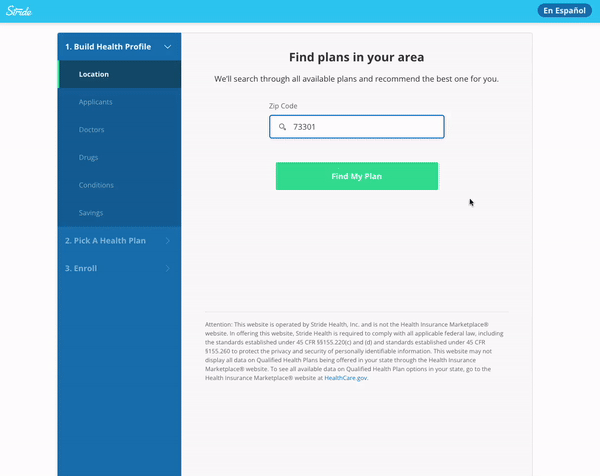 You can also select the button to waive coverage for other family members if they aren't needing health coverage, such as your spouse or another dependent. 
Also, please note that the application flow on Stride only allows for dependents from the ages of zero to 25. If you want to apply with a dependent over the age of 25, you'll want to take one of the following steps:
In most states:
Call Healthcare.gov directly at (800) 318-2596 to enroll over the phone

Go to

Healthcare.gov

and begin an application directly on their site
In California:
Call Covered California directly at (800) 300-1506 to enroll over the phone
Go to Covered California and begin an application directly on their site
For other states with their own exchange, please refer to this State Exchange Directory