For cancellations in most states:
1. Visit your Stride Dashboard and click on the health insurance card under "My Benefits"
2. Select "Learn more" under the "Manage your plan and application" section
3. Select "Cancel plan"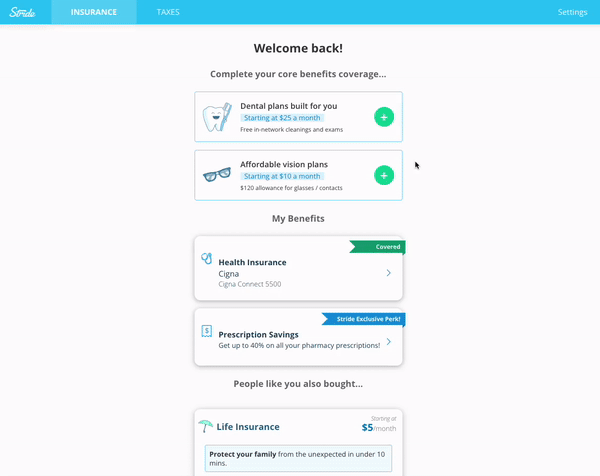 Alternative option: Call your insurance company to cancel
You can also cancel your plan by calling your insurance company directly using the phone number on the back of your insurance card or on the carrier's website.
If you choose to cancel through your insurance company, while we wish we could call on your behalf, legally cancellation of any health insurance plan requires your participation.
In order to make this happen, you'll need to:
Verify your identity
Specify the month that you'd like your coverage to end (e.g. at the end of this month)
Ask for a confirmation or reference number
To cancel a plan for members in California:
The most direct way to cancel is by calling Covered California at (800) 300-1506

You can also search for your application and submit a cancellation directly on Covered California

Stride can also assist with your cancellation, but you will need to confirm your plan details with us first. You can submit this request through your Dashboard:

To cancel a plan in a state with its own health exchange:
If you live in a state with its own health exchange, you will need to cancel this plan directly via your state exchange user account. These states include:

California, Colorado, Connecticut, District of Columbia, Kentucky, Idaho, Maine, Maryland, Massachusetts, Minnesota, Nevada, New Jersey, New Mexico, New York, Pennsylvania, Rhode Island, Vermont, and Washington State.
Please refer to the State Exchange Directory for contact information on each exchange
To cancel a dental and/or vision policy:
Please call Renaissance directly at (888) 791-5995
Important notes:
It is possible to cancel your plan at any time, and important to do this if you're switching to a new plan to ensure that you're not double charged unintentionally.
If you cancel coverage outside of the Open Enrollment period, be aware that you will have to wait until the next Open Enrollment cycle to re-apply unless you have a Qualifying Life Event.